Watching the Marques' Almeida label grow from this little brand that held its runway next to an active train track to one showing in major space in Paris has been fun. I've always appreciated the way that design duo Marta Marques and Paulo Almeida do their own thing, create clothing that their friends would wear, and pay no mind when the rest of the fashion world ignored them. One has to respect that kind of spunk.
Okay, there have been times we questioned exactly what they were thinking, such as when American country singer Dolly Parton showed up in their soundtrack and mismatched stripes were enough to cause one to go blind. Not every outfit is going to be a winner when one is utilizing a philosophy of "if it feels good, design it." Not everything works as well n real life as it does on paper (right, Jeremy Scott?).
Now, the label has grown large enough that they decided to show in Paris instead of London. Why? Because that's what all the big brands do, isn't it? Marques' Almeida has grown significantly and this seemed like a good time to take advantage and really spread the word about this popular brand. I have to wonder as I'm sitting here writing this if the duo is having second thoughts this evening.
Showing in a different city, in a different country, sounds like fun until one has to get down to the logistics of actually pulling it off. One could tell that not everything was going well when a couple of weeks ago, 9 September to be exact, a message pops up on their Instagram saying, "We're looking for M'A girls to walk our show in Paris this month 🙂 DM us or comment here to apply!" Okay, to only be a couple weeks out and not having someone doing casting is a bit scary, but M'A always does things a bit differently.
Then, on the 17th, came the news that the duo was partnering with Portugal Fashion for the show. Curious. No mention is given anywhere, including the extremely confusing designer's notes, as to what role Portugal Fashion played. We know the designers have history there, but beyond that, we're lost.
The label secured the Palais de Tokyo/Paris for the show, which is an immense space capable of holding dramatic, over-the-top productions. Again, this is significantly larger than anything the duo had done in London. Could they even fill all the seats?
The good news is that, yes, they did fill all the seats. The crowd was polite, though, not nearly as boisterous and supportive as an M'A audience usually is.
Then came the fashion, and right off the bat, everyone asked, "What is that thing on that poor girl's head? Should we try to kill it?" The rest of the show didn't get better.
The good news is that what they did with denim was impressive, especially an inverted V-shaped top with an open back. Denim has always been a strong point for the duo and this season they stepped up those looks significantly. They also experimented more with open backs on both tops and dresses and those always worked well, sometimes better than the rest of the garment.
Unfortunately, most everything else in the collection seemed disconnected. If there was a theme, nothing in the clothes made it obvious. Neither did the designers' notes. There were pieces from older collections, newer pieces that didn't seem quite done, and then … that hat. No one seems to know how to describe that hat.
Here are a few samples from the collection: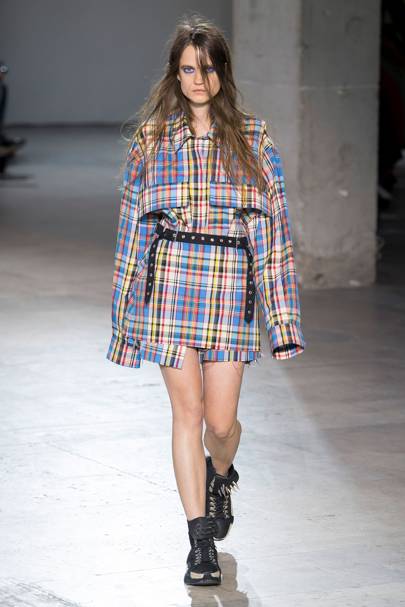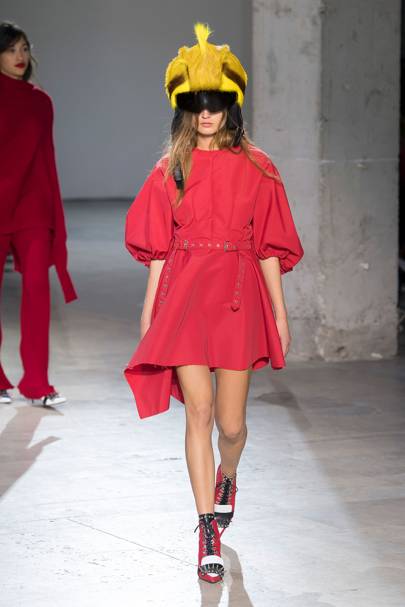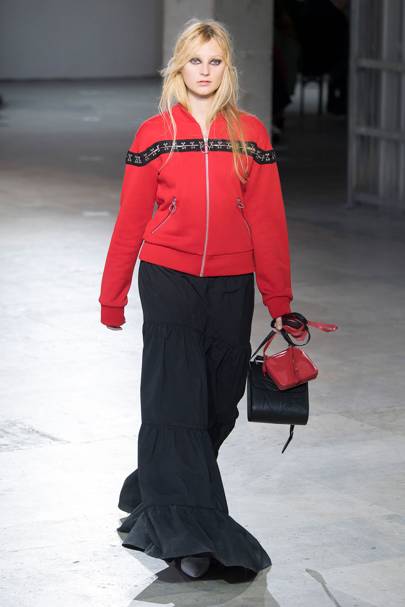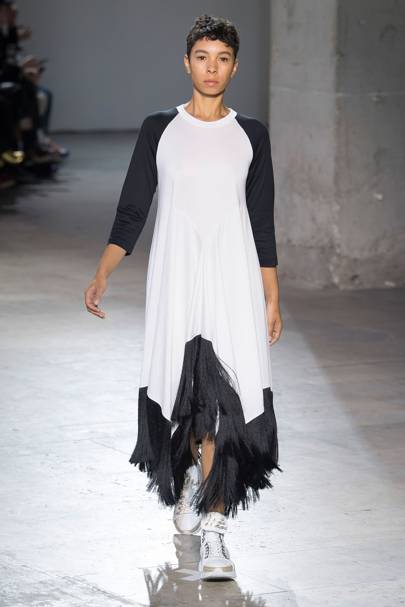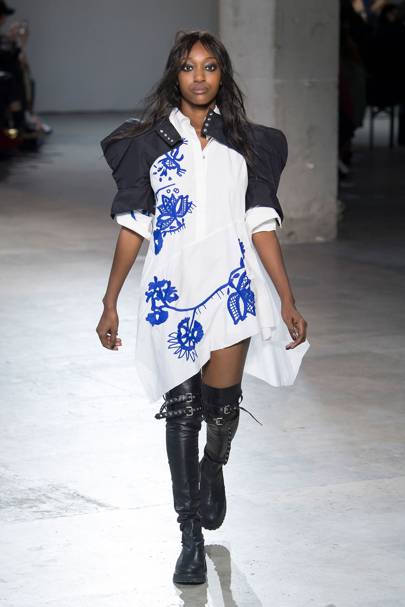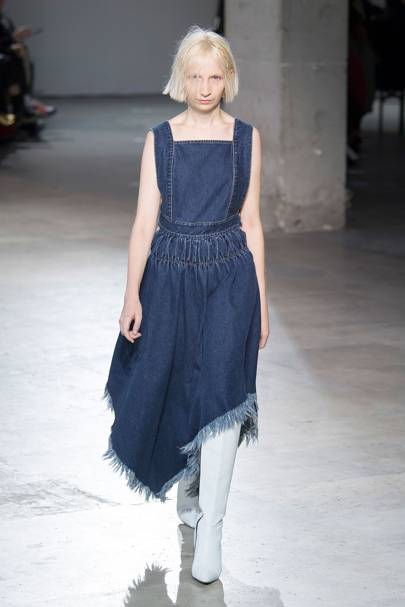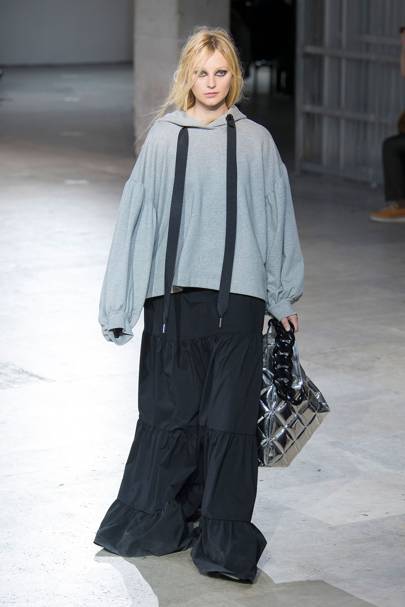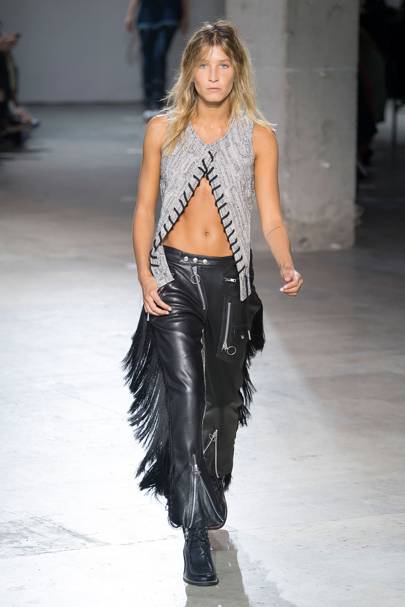 Explaining exactly what went wrong is difficult. Perhaps they didn't have enough time and with the distance between London and Paris, combined with a pop-up shop they did in London earlier this month, things just got away from them a little bit. Another explanation might be that the underground scene in London that has embraced Marques' Almeida wasn't present in the Palais de Tokyo. The duo is accustomed to working with the same group of people, many of which, for various reasons, were unable to accompany them in Paris. Could that have been why they called in Portugal Fashion at the last minute?
While the designers were not answering many questions after the show, a part of me wonders if they saw this as possibly their only chance to show in Paris, so they jumped at it. Once Brexit takes effect next March, excursions like this may be nearly impossible. This might have been their only chance to expand awareness of their brand outside London. Regrettably, the move seems to have not worked in their favor.