Some things in fashion are predictable, like the Max Mara collection walking first thing in the morning before the espresso has had a chance to really kick in. That wasn't quite the issue this morning, though. While models were backstage cheesing for Instagram, calling the collection "chic" and "classic," everyone else was glued to a New York Times article published this morning that calls out, among others, Max Mara for severely underpaying Italian at-home garment workers.
While the article is exposing an industry-wide problem that sullies the "Made In Italy" claim to luxury clothing, the first example made for interesting breakfast conversation for everyone on their way to this morning's runway presentation. A woman in Santeramo, Italy, was working on a wool Max Mara coat at her kitchen table. She doesn't have a contract or benefits. She gets paid a whopping 1€ per meter of fabric she completes. An entire coat is four to five meters. She tries to complete two coats a day. The woman is paid cash only for work she completes.
Now, drop out to the Max Mara website and take a look at the wool coats (most of which are combined with Alpaca for the fall/winter season). Prices on these coats run $2400 to $3500. As of this morning, the exchange rate between the dollar and the euro is pretty close with one euro being equivalent to $1.17. If we assume the woman makes roughly $5 for a $3500 coat, that's 0.1428571429% of the retail price.
Comparatively, even the newest models earn, on average, around $300 for walking a Milan show. Super influencers like Gigi Hadid and Kaia Gerber, both of whom walked in this show, make over 100 times that amount. Per show.
The imbalance is severe. Which contributes more significantly to the success of the label, the person sewing the coat or the person showing it off in Instagram? One can see why there was so much chatter as guests arrived for the early show. Several Italian brands were mentioned in the article, so the topic is likely to dominate conversations the rest of the week. The big question is whether all this talk results in any change in the industry.
All that talk makes for an interesting contrast against a collection that creative director Ian Griffiths says is about classically strong women. He describes this Max Mara woman as, "one part Amazon, one part ocean goddess." He speaks of his inspirations from classical Greek literature as elevating the role of marginalized women, which sounds and looks terrific on the runway, but loses a lot of its steam if the label is actively marginalizing the very women who make the clothes.
Unquestionably, the looks are for women who battle to break glass ceilings. Leather straps across the bare shoulder of single-shouldered looks give the impression of a corporate warrior taking on the misogynistic hoards of the boardroom. Double breasted suiting and jackets deliver a no-nonsense aesthetic meant to incite intimidation and maybe even a touch of fear. Ruched Neoprene dresses and leather peplumed tops infer a woman who's not afraid to play dirty. Meanwhile, full silhouetted outwear acts like full body armor protecting against the forces of bad weather or drunken advances.
In this Max Mara mythology, headscarves are this woman's battle bonnets and snap up leg warmers are ostensibly the shin guards against ankle biters or attacking kittens. The palette that dominates is rust brown and a stormy gray. There are a few eye-blinding yellow pieces that were strong enough to make even the tanned Kaia Gerber look jaundiced but let's just chalk that up to a poor trend choice. This collection does a good job of making strong attitudes attractive.
Here are a few samples from the collection.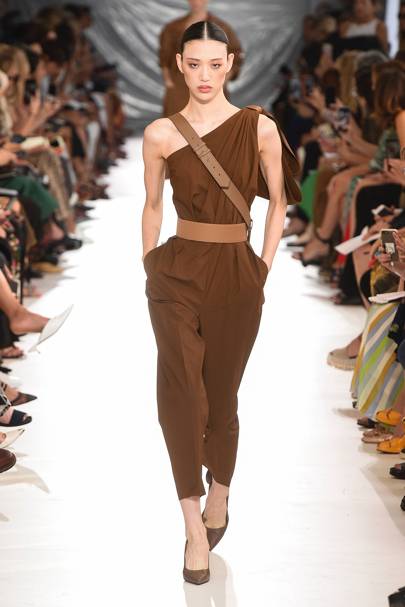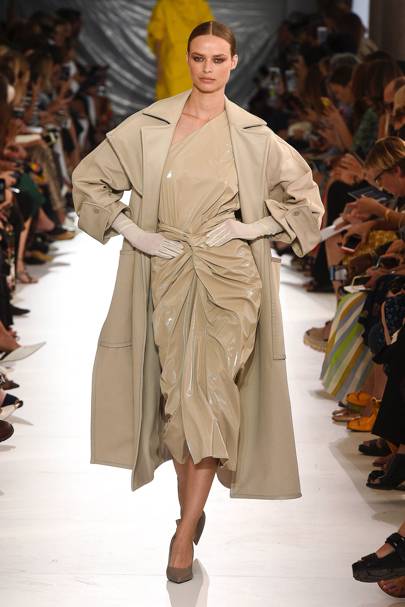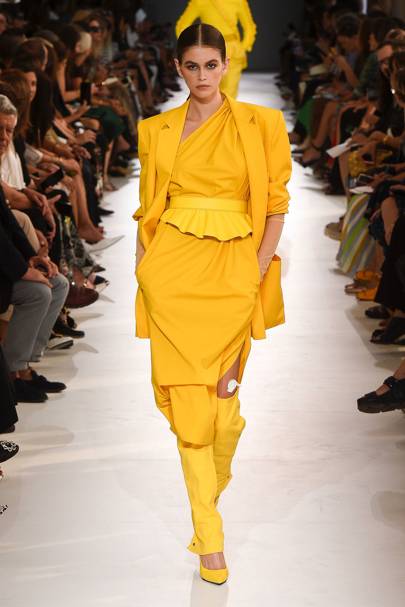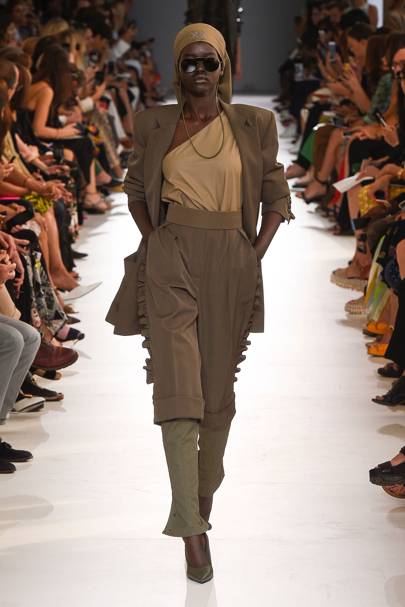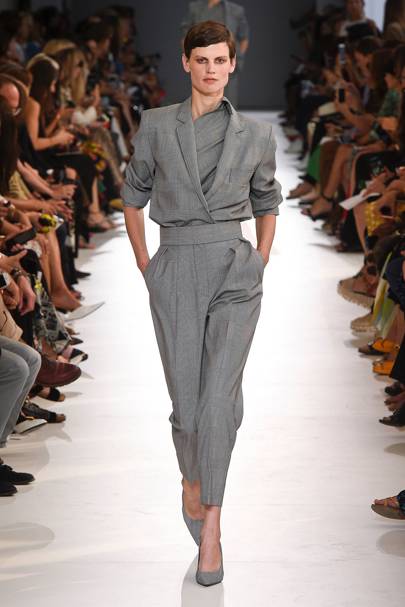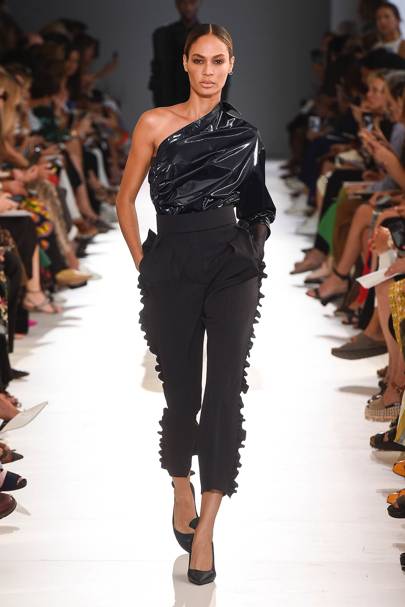 One odd item on the runway was the decision to have certain models make the walk with their hands on their hips. The pose feels sexist as it dramatically over-emphasizes the way one's hips move. We saw the pose often back in the 1960s when it was considered a come-hither pose for the pussycat dolls of that era. Raquel Welch could do that walk well. I'm not sure the effect produces a positive connotation anymore, though and it certainly seemed awkward coming down the runway.
It seems doubtful that Griffiths or anyone else at Max Mara knew the Times article was coming out this morning. If they had, perhaps they might have made some minor changes to emphasize the strength they're trying to provide to women with this collection. After all, the clothes themselves are very pro-feminist and supportive of a woman who is in charge not only of her life but the world around her. Unfortunately, that becomes lost when the company and its corporate investors take advantage of an economy that marginalizes women just as much as ancient Greek literature.
Let's hope this becomes the motivation for positive change.