Looking for something positive to say about London on the first day of this city's fashion, one might want to settle for the good news that there's no snow in the weather forecast here. That's something, isn't it? I don't know that the 30-something degree (Fahrenheit) temperatures that greeted this morning are actually any colder than normal, but there was enough of a breeze to have well-dressed show guests wishing that head-to-toe wool layers were more in style and that coffee didn't cool quite so quickly.
London is always a bit different from the three other fashion weeks due to it being shorter (only five days) and events so tightly controlled by the British Fashion Council. Designers who choose to show here are a different breed. They're not so keen on social media and its influencers. Many don't even have more than a single Instagram account and that doesn't get updated very often. They don't care as much for trends, either, frequently choosing to chase after the thriving underground scene here. As a result, midst the Burberry, Mulberry, and Pringles of Scotland shows coming later, there are some extremely independent-minded labels showing here.
Actually, calling them independent is a bit of an understatement. Per capita, London has a healthy set of alternative designers that, if we must put a label on it, are more quirky than anything. They are strongly anti-establishment, pro-feminist, pro-ecology, and anti-tradition. Representing a collection of well-trained and regarded designers, both mature and young, they follow in the shadow of Dame Vivienne Westwood, who ironically was out protesting environmental concerns here this morning but is showing later in Paris.
While some US-based publications choose to ignore many of these designers (well beyond the four we've listed here), young Britons tend to regard these labels as the heart of contemporary British fashion. While Americans may not be familiar with the names, each of their shows are packed and the designers treated like celebrities. They cheer as various ensembles come down the runway and aren't above dancing in their seats if the soundtrack is especially moving.
The growing popularity of these "alternative" designers was cemented when the Mayor of London, Sadiq Khan, showed up at the Ashley Williams show. The Lord Mayor has a good relationship with the London fashion community and his appearance at a show is the next best thing to a royal blessing (which never happens). While Americans might look at some of these designs and wonder if anyone in their right mind would wear them, Londoners look at the off-beat elements as a challenge to work into their wardrobes.
With all that background, let's take a look at four day one designers who are worth a little extra attention.
If there was any question whether the 80s trend we saw in New York would follow to London, Fyodor Golan immediately put that question to rest with a collection that largely riffs on the original MTV logo from 1984. While that might sound like a rather limiting theme, Fyodor manages to get quite creative and colorful with the logo, echoing many of the graphic design variations seen on the cable channel. This makes for some very interesting asymmetrical cuts across a variety of styles and silhouettes. Golan incorporates a strong athleisure theme here but it's rather in jest, reminding us of the classmates who were transfixed for hours in front of the constant stream of music videos. Especially entertaining is the large train looking very much like a rainbow parachute trailing behind the dress. Go ahead and jump. Total 80s.
Here are a few samples from the collection:
Pam Hogg was paying homage to post-punk designer Judy Blame with a collection that probably had any ghosts lingering in the Freemason's Hall diverting their eyes. Using everything from leather and PVC to tulle and pearls, Hogg sent down a series of catsuits and related ensembles meant to celebrate strong but nonaggressive women. I'll leave it to you to explain how birds perched on top of band hats achieves that goal. There's an unmistakable and likely intentional sexiness to this collection but don't let that diminish the strength Hogg has infused in the styles. She wants women who don't have to be loud, brash, and contrarian to be respected. Her's is an interesting approach, for sure, but Hogg's far from being a rookie. She knows what she's doing. One should also note that Hogg's was probably the most diverse casting we saw all day.
Here are a few samples from her collection:
If there's a collection that feels totally confusing from start to finish it is Matty Bovan's first solo show. Bovan, on one hand, sets his collection in the future post-apocalypse of North Yorkshire where he happens to live. With his parents. At the same time, he says there is a lot of his grandmother in this collection, referenced by the tweed jackets and trousers. The juxtaposition is engaging even as the exaggeration of size makes this one of those "would anyone wear this" collections. One has to get past Matty's styling (and makeup choices) to see the brilliance of his design. He has a unique flair for interpreting current-day chaos in terms of recycled materials such as terrycloth and ragged netting while also creating massive evening gowns.  He's definitely a designer one wants to watch.
Here are a few samples from his collection: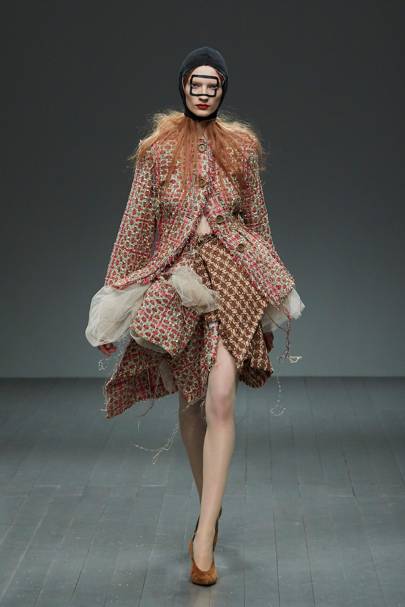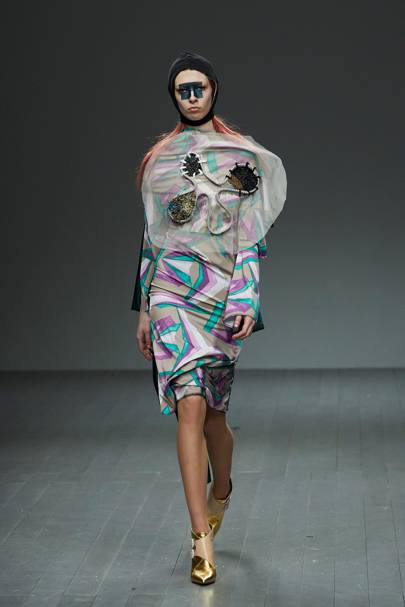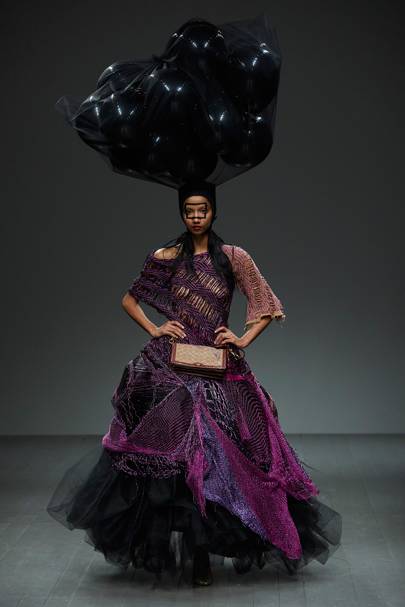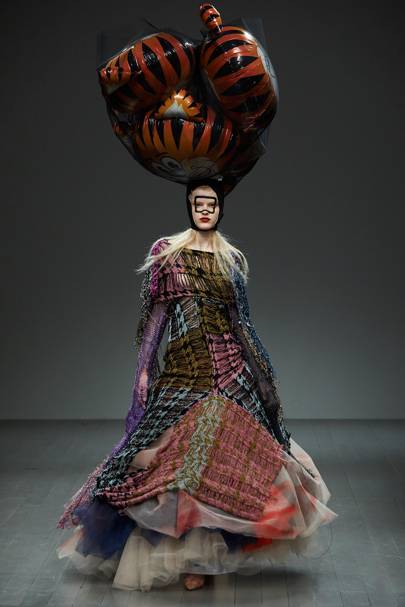 If there is any evidence that this quirkiness ever eventually gives way to something approaching mainstream fashion it is in seeing the progression of Ashley Williams, who has moved beyond the sets styled like a teenager's bedroom and settled into something slightly more predictable. Okay, so that happens to include a lot of sheer tops and t-shirts and polka-dot skirts. What do you mean the open-toed house slippers don't go with that outfit? Williams captures the spur-of-the-moment attitude found in many Millennials and delivers for them a wardrobe that can be tossed haphazardly into a suitcase or random grocery bag when one decides to road trip for the weekend. Pieces at times feel disjointed but endup celebrating the freedom of personal style and creating one's own looks.
Here are a few samples from her collection: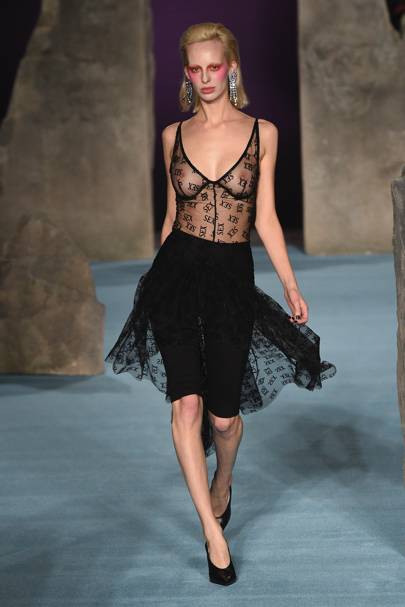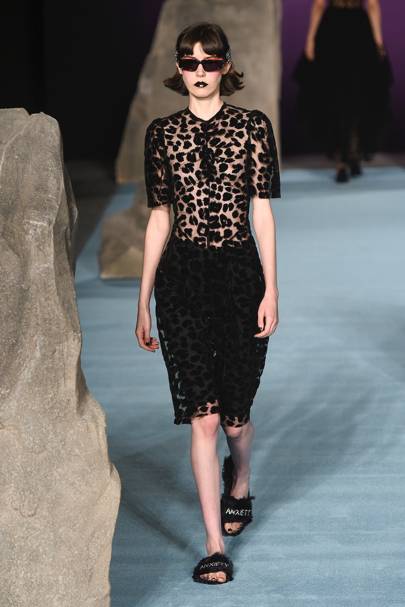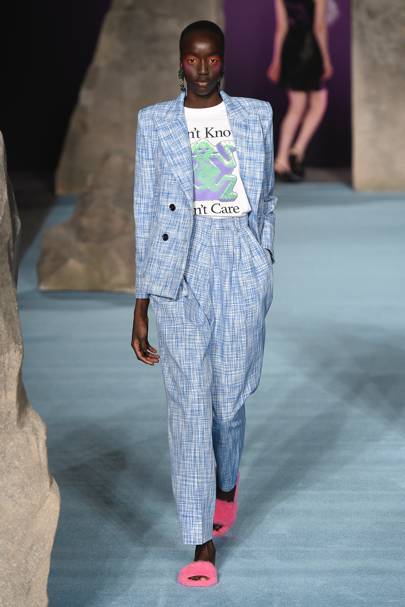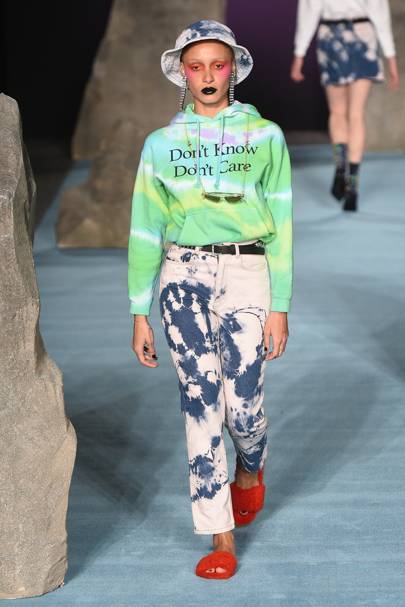 Other cities may try to hide or dismiss their creatively quirky designers but London embraces theirs. Even as more mainstream labels take the stage the rest of the week, there are still moments interspersed throughout the day when those "alternative" minds have a chance to show off a bit. Here, they are championed, encouraged, and celebrated rather than dismissed as being too impractical or unwearable.
Not that everything here is idyllic. Even among these forward-thinking creatives, there are some challenges. Primarily, we noticed that casting for these early shows was especially pale. "Alternative" designers typically are more conscious of their casting than mainstream designers and that was more evident as the day wore on. Still, compared to what we saw in New York the runways here still tend to favor lighter-skinned models. At this point, we really do expect better from all of them.
Still, these are collections unique to London. They don't venture across the pond too terribly often. Their names aren't especially well known outside the most dedicated fashion fans. Department store buyers frequently ignore these shows. Londoners don't mind, that just means more seats for them, seats they snatch up as quickly as they are made available.
London loves these off-beat, non-mainstream designers and that is one of the things that makes London Fashion Week enjoyable even after the coffee's gone cold.